Aquariums have been a source of fascination and debate for centuries. Some people see them as beautiful, serene places where they can relax and escape the hustle and bustle of everyday life. Others view them as cruel, inhumane prisons where fish are forced to endure a lifetime of suffering.

So, which is it? Are aquariums cruel or not?
Aquariums are a popular form of pet, but there is some debate over whether or not they are cruel. Aquariums can be a great way to relax and enjoy the company of fish, but there are some things to consider before you get one. For starters, fish are very sensitive to their environment.

They rely on clean water and proper filtration to stay healthy. If an aquarium is not properly maintained, the fish can become sick or even die. Another thing to consider is that fish are social creatures.

In the wild, they live in schools and swim long distances every day. In an aquarium, they are often kept in small tanks where they cannot move around much. This can lead to boredom and stress.

Finally, it is important to remember that fish are not toys. They are living creatures with feelings and needs. If you decide to get an aquarium, be prepared to care for your fish properly and give them the best possible life.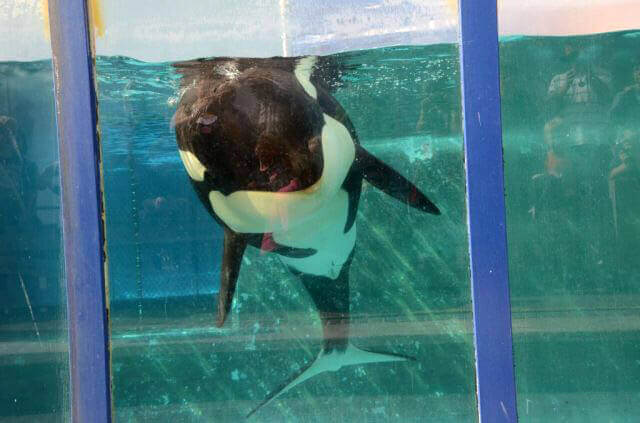 Credit: www.peta.org
Is It Ethical to Go to Aquariums?
Yes, it is ethical to go to aquariums. Aquariums are a great way to learn about marine life and their habitats. They also provide a safe environment for animals that might otherwise be harmed in the wild.
Are Fish Unhappy in Aquariums?
No one can say for certain whether fish are unhappy in aquariums. As with any animal kept in captivity, there are pros and cons to keeping fish in an aquarium. Some people believe that fish are happier in aquariums because they are provided with food and shelter and do not have to worry about predators.

Others believe that fish are unhappy in aquariums because they are confined to a small space and cannot swim freely. There is no right or wrong answer, but it is important to consider both sides before making a decision about whether or not to keep fish as pets.
Is Putting Fish in a Tank Cruel?
It's a common question: Is it cruel to keep fish in an aquarium? The quick answer is no, but there's more to consider than just that. For starters, it's important to choose the right fish for your tank.

Some fish are simply not meant to be kept in captivity and will not do well in an aquarium setting. Others are much better suited for life in a tank and will thrive when given the proper care. Once you've chosen the right fish for your aquarium, it's important to provide them with a good home.

This means giving them plenty of space to swim around, hiding places, and clean water. A well-maintained aquarium can be a beautiful thing and provide years of enjoyment for both you and your fishy friends. Of course, even the best-kept tanks can sometimes run into problems.

Fish can get sick or die just like any other pet, so it's important to be prepared for that possibility. But if you give your fish the care they need and create a comfortable home for them, there's no reason why keeping fish in an aquarium can't be a rewarding experience for everyone involved.
Do Animals Suffer in Aquariums?
Aquariums are a popular destination for families and animal lovers alike. But what many people don't realize is that animals in captivity often suffer from poor living conditions, mental anguish, and a shortened lifespan. In the wild, animals have the opportunity to roam freely, socialize with their own kind, and engage in natural behaviors.

In captivity, however, these creatures are deprived of all that is natural to them. They are confined to small tanks or cages where they can barely move, and are often forced to interact with humans instead of other animals. As a result, many captive animals exhibit signs of stress and anxiety, such as pacing back and forth or self-mutilation.

The cramped quarters and lack of stimulation also lead to physical problems in captive animals. For example, marine mammals held in aquaria often develop skin lesions due to the constant contact with chlorine-treated water. And because they're not able to exercise properly in captivity, many captive animals become obese.

Captive animals also typically have shorter lifespans than their wild counterparts. This is due to the fact that they're more susceptible to diseases (both mental and physical) as well as the fact that they're often not cared for properly by their owners/caretakers. So while aquariums may be fun places to visit, it's important to remember that the creatures inside them are suffering immensely.

If you care about animal welfare, please consider boycotting these establishments altogether.
The Truth About Aquariums: Don't Lie To Our Children (5-minute version)
Are Aquariums Cruel Reddit
Many people believe that having an aquarium is cruel to the fish. They argue that the fish are confined to a small space and are not able to swim freely. Additionally, they believe that the fish do not have access to the same food and water conditions as they would in the wild.

However, there are also many people who believe that aquariums can be beneficial for fish. Aquariums provide a stable environment for fish, which can be important for their health and well-being. Additionally, aquariums allow people to observe and appreciate fish in a way that would not be possible in the wild.

So, what do you think? Are aquariums cruel or beneficial for fish? Let us know your thoughts in the comments below!
Are Home Aquariums Ethical
If you're thinking about setting up a home aquarium, you may be wondering if it's ethical. The short answer is that it depends. There are a number of factors to consider when determining whether or not keeping an aquarium is ethically sound.

One of the most important things to consider is the source of your fish. If you buy fish from a pet store, there's a good chance they were raised in poor conditions and transported inhumanely. This isn't always the case, but it's something to be aware of.

If possible, try to buy fish from a reputable breeder who treats their animals well. Another thing to think about is the size and type of aquarium you're planning on keeping. A small tank that houses only a few fish is much easier to maintain than a large one with many different species.

And, depending on the type of fish you keep, some may need more space than others. For example, goldfish are notoriously messy and require a larger tank than other types of fish. Finally, it's important to ensure that your aquarium is set up properly and that you're able to care for your fish properly.

Fish are living creatures and deserve to be treated with respect. That means giving them clean water, appropriate food , and plenty of space to swim around . It also means being patient – remember that these are not robots or toys , but real animals with feelings .

If you can commit to providing your fish with everything they need , then keeping an aquarium can be a rewarding experience for both you and your pets .
Are Aquariums Good
Are Aquariums Good? Many people believe that having an aquarium is good for their health. There are a number of benefits that come from owning an aquarium.

Below are some of the top reasons why people believe that having an aquarium is good for them: 1. Aquariums can help to reduce stress and anxiety levels. Watching fish swim around in an aquarium can be very relaxing and therapeutic.

It has been proven that looking at fish can lower blood pressure and heart rate. 2. Aquariums can improve your mood and make you happier. Studies have shown that looking at fish can increase levels of serotonin, which is a feel-good hormone.

Owning an aquarium can also give you a sense of responsibility and purpose. Caring for another living creature can boost your self-esteem and make you feel more positive about yourself. 3. Aquariums can boost your cognitive skills and memory power.

Looking after an aquarium requires you to remember a lot of information such as feeding times, water quality, etc. This helps to keep your mind active and sharpens your memory skills. Also, watching fish swim around has been shown to improve attention span and concentration levels in children with ADHD (Attention Deficit Hyperactivity Disorder).
Are Aquariums Bad for the Environment
Aquariums have often been criticized for being bad for the environment. While it is true that they can have a negative impact on local ecosystems, this is usually only the case when they are not properly maintained. Here are some of the ways that aquariums can be bad for the environment:

-Aquariums can introduce non-native species into local ecosystems. This is one of the most commonly cited problems with aquariums, as introduced species can cause serious harm to native wildlife. -If not properly maintained, aquariums can release pollutants into the water.

These pollutants can include everything from excess fish food to chemicals used to clean the tank. -Aquariums require a lot of energy to operate, which can lead to increased greenhouse gas emissions. Despite these potential impacts, aquariums can also be beneficial for the environment.

They can help raise awareness about conservation issues and provide homes for animals that would otherwise be killed or sent to zoos. When operated responsibly, aquariums can be a great way to connect people with nature.
Conclusion
Aquariums are often thought of as peaceful places where people can go to relax and admire the beauty of marine life. However, there is a growing movement of people who believe that keeping fish in captivity is cruel and unnatural. There are a number of arguments against keeping fish in aquariums.

One is that fish are wild animals that should be free to swim in open waters, not confined to a small tank. Another argument is that fish are highly sensitive creatures with sophisticated nervous systems, and they can suffer from stress and anxiety when kept in captivity. Additionally, many aquarium fish are captured from the wild, which can disrupt ecosystems and cause populations to decline.

Whether or not you believe keeping fish in captivity is cruel, it's important to do your research before purchasing an aquarium. Make sure you are prepared to provide your fish with proper care, including a large enough tank, filtration system, and appropriate food.