A 20 gallon aquarium is a great way to get started in the hobby of fish keeping. They are not too big and not too small, making them a perfect size for beginner aquarists. But how much does a 20 gallon aquarium cost?

The answer may surprise you!
A 20 gallon aquarium is a great size for a beginner fish keeper or someone who wants a small, low maintenance tank. But how much does it cost to set one up and maintain it? Initial costs for setting up a 20 gallon aquarium include the tank itself, stand, filter, heater, gravel, plants, and fish.

A basic setup like this can cost anywhere from $200 to $500 depending on the quality of the products you choose. Ongoing costs for maintaining a 20 gallon aquarium include fish food, water tests and conditioners, and occasional replacement of gravel and plants. A good rule of thumb is to budget about $20 per month for these expenses.

So there you have it – the initial investment for a 20 gallon aquarium is not cheap but the ongoing costs are manageable. If you're thinking about starting an aquarium, be sure to do your research and shop around for the best deals on quality products.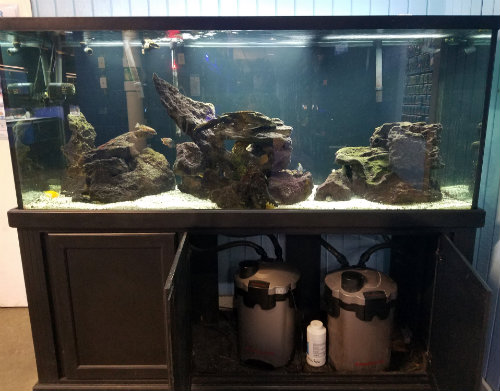 Credit: blogs.thatpetplace.com
Is a 20 Gallon Aquarium a Good Size?
A 20 gallon aquarium is a good size for many different types of fish. It is big enough to accommodate most small to medium sized fish, and can even house some larger fish if they are the only occupants. This size tank is also easy to care for and maintain.
How Many Fish Can I Keep in a 20 Gallon Tank?
One of the most common questions asked by fishkeepers is "how many fish can I keep in my tank?" The answer, unfortunately, is not as simple as a single number. There are a number of factors that need to be considered when stocking a fish tank, including the size of the fish, the type of fish, and the filtration system.

A good rule of thumb is to allow 1 gallon of water per inch of fish (excluding tail fin). So, for example, you could keep 4 three-inch goldfish in a 12-gallon tank. But there are other considerations beyond just size.

Fish produce waste in the form of ammonia, which is toxic to them in high concentrations. Ammonia levels can build up quickly in a small aquarium with few fishes and less water volume to dilute it. For this reason, it's best to avoid overstocking your aquarium.

Another factor to consider is whether your fish are compatible. Some species of fish require different water conditions than others (e.g., tropical vs coldwater species), so it's important to do your research before adding any new inhabitants to your tank. Incompatible fishes can stress each other out and lead to fighting or even death.

Finally, you need to have an adequate filtration system in place to remove ammonia and other toxins from the water. A good filter will ensure that your fishes have clean and safe water to swim in and help prevent disease outbreaks. So how many fish can you keep in a 20-gallon tank?

It depends on the factors mentioned above, but generally speaking you could probably safely keep around 6-8 small goldfish or 3-4 larger tropical fishes like angels or gouramis without overstressing the system. Be sure to do your homework first though – remember, it's always better to err on the side of caution when it comes to your finned friends!
Is a 20 Gallon Tank Small?
No, a 20 gallon tank is not small. In fact, it's actually quite large compared to most other fish tanks on the market. This size tank is perfect for housing a wide variety of different fish, as well as providing plenty of space for them to swim around and stay active.

Plus, with a larger tank you'll also have more options when it comes to decorating and creating a unique environment for your fishy friends.
What Size Tank Do I Need for 20 Fish?
When it comes to stocking a fish tank, there is no definitive answer as to how many fish can be safely kept in a certain sized tank. A general rule of thumb is that each adult fish should have at least 10 gallons of water to themselves. This means that a 20 gallon tank could theoretically hold 2 adult fish.

However, there are many other factors to consider when stocking a fish tank and 20 gallons may not be sufficient for some species of fish. It is always best to consult with a professional before adding any new fish to your tank.
This 20 Gallon Aquarium Costs $3000 — The Ultimate Luxury Aquarium
20 Gallon Aquarium Dimensions
A 20 gallon aquarium is a perfect size for many different types of fish. It's large enough to accommodate a good number of fish, but not so large that it's difficult to care for. Here are the dimensions of a 20 gallon aquarium:

Width: 18 inches Height: 12 inches Depth: 12 inches

If you're considering a 20 gallon aquarium for your home, here are some things to keep in mind. First, decide what type of fish you'd like to keep. Some fish require more space than others, so it's important to choose the right size tank for your needs.

Secondly, consider where you'll be placing the aquarium. A larger tank will need a sturdy stand that can support its weight when filled with water. Lastly, think about what type of filtration and lighting system you'll need to maintain healthy water conditions for your fish.

With proper planning, a 20 gallon aquarium can be a beautiful and low-maintenance addition to your home.
20 Gallon Aquarium Kit
If you're looking for a complete 20 gallon aquarium kit, there are a few things you should keep in mind. First, decide what type of fish you want to keep. Some kits come with everything you need to get started, while others may require additional items like an air pump or filter.

Next, consider the size and shape of your aquarium. There are many different sizes and shapes of aquariums available, so it's important to choose one that will fit in the space you have available. Finally, think about what accessories you might want to include with your aquarium kit.

Many kits come with basic items like a hood and light, but there are also many optional extras like plants, rocks, and decorations. By including these items in your kit, you'll be able to create a custom setup that's perfect for your home.
20 Gallon Extra High Aquarium
If you're looking for an extra large aquarium that can accommodate a wide variety of fish, the 20 gallon extra high aquarium is a great option. This type of aquarium is taller than a standard 20 gallon aquarium, so it can accommodate fish that need more vertical space. In addition, the extended height makes this aquarium ideal for keeping live plants.

The 20 gallon extra high aquarium is a great choice for beginners and experienced fishkeepers alike. If you're just starting out, you'll appreciate the extra space that this tank provides. And if you're an experienced aquarist, the extended height will allow you to keep a wider variety of fish.

No matter what your level of experience, this is a great all-around tank for anyone who wants to keep a large number of fish.
20 Gallon Long Aquarium
A 20 gallon long aquarium is a great option for those looking for a mid-sized fish tank. This type of aquarium offers plenty of space for a variety of different fish and other aquatic creatures, while still being small enough to fit in most homes. Here are some things to consider before purchasing a 20 gallon long aquarium:

Size – A 20 gallon long aquarium is approximately 30 inches wide and 12 inches tall. This size is great for many different types of fish, including goldfish, bettas, and cichlids. It can also accommodate a few smaller invertebrates, such as shrimp or snails.

Location – Before setting up your new aquarium, you'll need to find the perfect spot for it in your home. Keep in mind that larger tanks will require more light and may be too heavy for some shelves or tables. Choose a location that receives plenty of natural sunlight or has access to artificial lighting if needed.

Filtration – All aquariums require filtration to keep the water clean and healthy for your fish. There are many different types of filters available on the market, so do some research to find the best one for your needs. A good filter will help to remove harmful toxins from the water and keep your fish happy and healthy.
Conclusion
A 20 gallon aquarium is a great addition to any home. They are not only aesthetically pleasing but can also provide a calming effect. Many people don't realize how much these little tanks cost.

Depending on the brand and where it's purchased, a 20 gallon aquarium can cost anywhere from $60 to $200. The most important factor in deciding the cost of your new tank is the quality of materials used. Cheaper brands often use lower quality materials that won't last as long or look as good as their more expensive counterparts.

If you're looking for a long-lasting, high-quality product, be prepared to spend a little extra money upfront.